Beautiful memories and emotions are two essential aspects of life. Marriage brings with it a lot of love and responsibility. Before taking your relationship to the next level, you need to capture all of those special moments that you spend together. The photoshoot before the wedding gives you the opportunity to spend more time together before your wedding. Couples are lucky enough to know each other better. It's an exceptional style to capture your wonderful chemistry on prints. So if you want a romantic and stately pre-wedding photoshoot,  Below , in this article we provide the 10 Best Locations For Pre-Wedding Photoshoot In India.
1.The Taj Mahal, 7th Wonder of the World
The Taj Mahal is India's best-known and best-known symbol of love. What could be nicer than posing in front of this magnificent monument This place is for all those couples who believe that their love and bond will last forever. You will fall in love again with the incredible architecture of this white monument with a wonderful background. If you want to capture the majestic beauty of this place in your area, you need to plan your photoshoot before the wedding on a full moon night. This brings the charm and beauty of your photo shoots to the next level. Built by a husband for his wife, who could be a better backdrop than one of the seven wonders of the world.
 2.Taj Umaid Bhavan Palace (Jodhpur)
Heritage, Class, Royalty If these are the expressions that you really feel close to, then the Taj Umaid Bhavan Palace is great among all the locations before the wedding in India. As beautiful and magnificent as your love, this historic hotel in India will highlight the opulence and romance of your photos like no other.
Location: Circuit House Rd, Cantt Area, Jodhpur, Rajasthan 342006
Cost: INR 11 Lakhs + GST for 6 hours
Specialty: Royal touch, friendly staff, grand location, changing rooms available
Places Nearby: Mehrangarh Fort, Kaylana Lake, Jaswant Thada
 3.Kumarakom Lake Resort (Kumarakom)
Ride in Kerala backwaters and capture love in its purest form while indulging in pre-wedding photography. Yes, as imagined, the Kumarakom Lake Resort is one of the best places in India for a pre-wedding photoshoot, which beautifully illustrates the romantic angle of your love story and its charm.
4.Taj Falaknuma Palace (Hyderabad)
Many celebrities choose to stay for weddings and stays, and the Taj Phaluknama in Hyderabad is one of the best hotels in India for photoshoots before the wedding. The Nizami's attraction of the place complements modern romance, making it the hottest place in India for couples who love the Royal Photoshoot.
Location: Engine Bowli, Fatima Nagar, Falaknuma, Hyderabad, Telangana 500053
Cost: INR 2 Lakhs + GST for photography
Specialty: Architecture, various backdrops, heritage trail
Places Nearby: Hebron Church, Chowmahallah Palace, Veda Nilayam, Jagdamba Temple
5. Taj Rambagh Palace (Jaipur)
If you want to highlight everything bright and beautiful in your relationship, Rampak Palace in Jaipur is one of the best traditional hotels in India. Suitable for day and night shots, this palace has a magical aura that will surely appear when you look at the camera lens.
6. Humayun's Tomb (Delhi)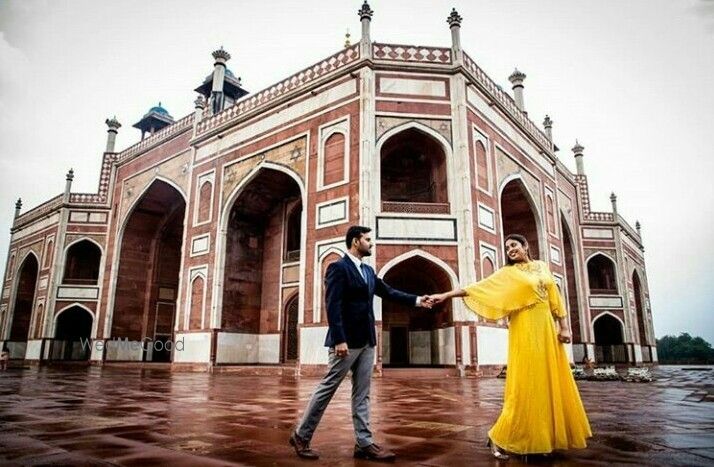 One of the most beautiful backdrops of a pre-wedding shoot in Delhi, the tomb of iconic Humayun will add a nice layer of old-world charm to your picture book love story. This is an attractive choice for couples who want to add a "passing age" nostalgic experience to their pre-wedding memories. The monument, which displays the true Mughal architecture, reflects the royal and extravagant touches.
Location: Mathura Road Opposite, Hazrat Nizamuddin Aulia Dargah, Nizamuddin, New Delhi, Delhi 110013
Cost: Entry Fee-only
Specialty: True Mughal architecture, lesser crowd, tranquility, lush greenery
Places To Visit Nearby: Hazrat Nizamuddin Aulia Darga, Isa Khan's Tomb, India Gate, Lotus Temple, Connaught Place
7. Park Hyatt Goa Resort and Spa (Goa)
The Park Hyatt Resort Goa Resort and Spa is one of the best destinations for a pre-wedding beach shoot in India. Captivating, surreal and refreshingly romantic, this 5-star hotel in Goa perfectly highlights the tropical love that each couple feels so strongly here. Needless to say, the photos are romantic. The beach backdrop of this place makes the photos look like postcards, making it one of the best places for pre-wedding shoots in India.
Location: Arossim Beach Rd, Cansaulim, Goa 403712
Cost: INR 50,000 onwards
Specialty: Beach backdrops, changing rooms available, dress in style
Places Nearby: Monsoon Heritage Studio, Rivona Caves, Tropical Spice Plantations
8.  Neemrana Fort-Palace(Alwar)
Neemrana Fort and Palace is a historic 15th-century hotel that highlights the age-old magic of romanticism on the camera lens. Perfect for couples who want a mix of royalty, heritage, class and of course love. The Neemrana Fort is one of the best places for a pre-wedding shoot in India for those looking for a less crowded and more peaceful place.
Location: 15th Century, Delhi-Jaipur Highway 122nd Milestone, Delhi – Jaipur Expy, Neemrana, Rajasthan 301705
Cost: INR 59,000 or photography
Specialty: Lighting equipment available, paranomic view of the palace, great architecture
Places Nearby: Sariska National Park, Baori, Alwar Fort, City Palace, Siliserh Lake
9. Rushikonda Beach(Visakhapatnam)
Presenting a perfect location for those looking to take pretty poses on white sand with crystal clear water forming a superb backdrop, Visakhapatnam is definitely the place to be. A great location on the beach without too many crowds covering its floors, Visakhapatnam is a great alternative to Goa for a fun session before the wedding. The perfect landscape, the perfect pose and the perfect couple would certainly merge to create beautiful memories.
Location: Visakhapatnam (Vizag), Near The Gitam College
Cost: N/A
Specialty: Lesser crowds, tranquility, sunset on the beach
Places Nearby: Indira Gandhi Zoological Park, Tenneti Park, Tenneti Park
10.  Khajuraho (Madhya Pradesh)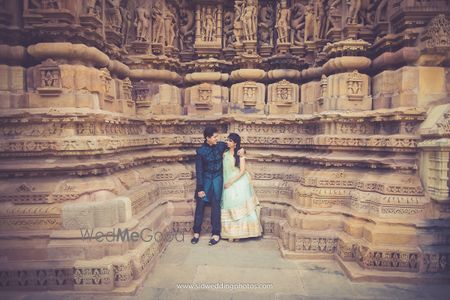 If breathtaking architecture, small gatherings, vibes of old-world beauty, and ancient traditions define your last trip to a wedding with your fiance, Khajuraho should be at the top of your bucket list. Steeped in rich history, love, culture, and traditions, Khajuraho is one of the most elegant places in the world. This place is a great place for those who want to brighten up their clothes.
Location: Vishwanath Temple- Rajnagar Rd, Sevagram, Khajuraho, Madhya Pradesh 471606 |
Nandi Temple– Khajuraho Airport Area, Khajuraho, Madhya Pradesh 471606
Cost: N/A
Specialty: Beautiful architecture, ancient temples, outdoor shoot, traditional vibes
Places Nearby: Kandariya Temple, Lakshmana Temple, Western Group of Temples, Chaturbhuj Temple
Also, Read